Depending on which service you are on, you will find that you receive requests from members of our team asking for copies of your bank statements.  You may receive different emails from different team members depending on the work they are undertaking for you.  Whilst we try to eliminate asking for the same information on multiple jobs sometimes there are instances where information is requested more than once.  This may be sent as part of an auto request from our system, then again manually by an individual looking at your records in real-time.
We would like to clarify why you are asked for these and why it is so important they are provided to us when asked.
Why do we request copies of your bank statements?
We request copies of your bank statements to check the balances in your accounting software are correct and that all transactions have been correctly accounted for.  Many of you will have 'bank feeds' from your bank accounts which feed transactions directly into your accounting software.  Whilst bank feeds are usually reliable there can be instances where they drop out for security purposes or there are blips where transactions are missed or duplicated by the feed.  In order for us to spot these errors in a timely manner, and to ensure your records are always as accurate as possible, we will ask for copies of your bank statements for a given period or as at a given date to check.
If entering transactions from your bank account manually into your accounting software without bank feeds there is always a larger risk of errors – if you would like to discuss bank feeds with us or you need any help with this please get in touch.
When will we request copies of your bank statements?
Depending on your service levels with us or the nature of your business you will get asked for statements at different intervals.  This could be in relation to the following jobs:
Bookkeeping service (once a month)
Monthly Review (once a month)
Quarterly Review (once a quarter)
Year-end accounts – 3 months before your year end as a 9 month 'Health Check' and again once your year-end date has passed
Sole trader accounts and tax return – annually (unless you have our sole trader bookkeeping service)
Ad-hoc – if we (or you) notice there has been a problem with the bank transactions or feed we may ask for copies at unusual intervals
How do you upload your statements for us?
You will receive an email from us that looks something like the email on the right.
To upload your bank statements, you need to click on "manage checklist". The next page will ask you to input your PIN. If this is the first time you have done this process then you will be asked to create one. If you have forgotten it, there is a link underneath to reset it.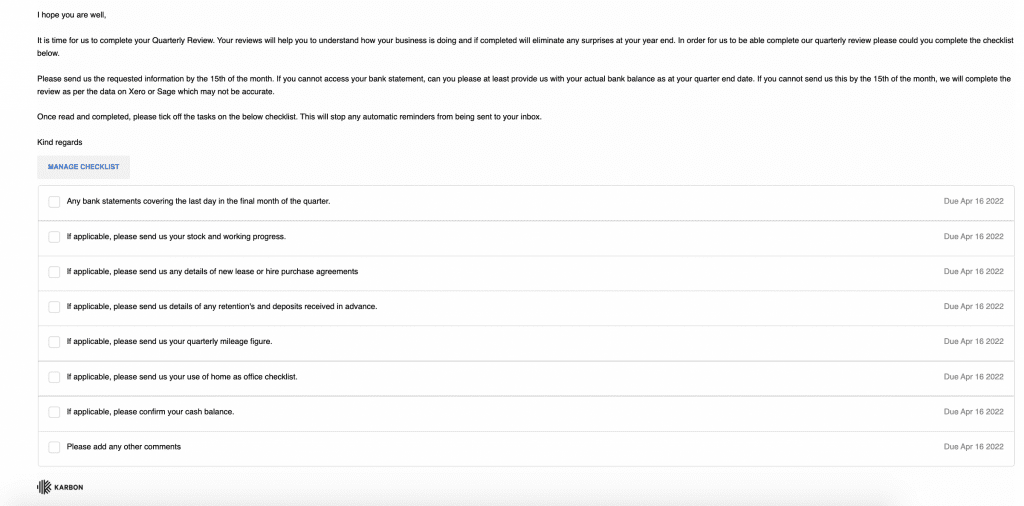 You will then be taken to your checklist where you can upload your statements. You will also be able to see the due date, exactly what we need from you, and be able to send us a message using the comment function. There is no "submit" button, but once everything is uploaded we will be able to access it at our end and will be notified that you have uploaded your statements.
The system we use is called Karbon and it is completely cyber-secure and GDPR compliant so you do not need to worry about your information.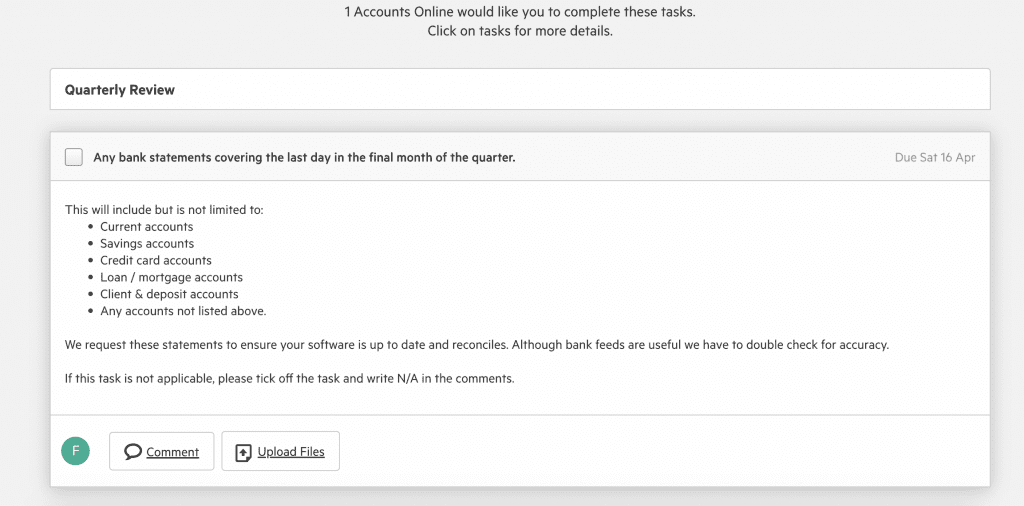 What happens if the bank balance in your software does not agree to your bank statements?
If we complete your bookkeeping we will identify and correct any bank issues as part of our service at no extra charge.
If you complete your own bookkeeping we will help you identify the difference.  We can complete any corrections for you for a fee (on request), or alternatively you can complete the corrections yourself. If you complete your own bookkeeping we would advise you check the bank balances in your software to the bank statements weekly ideally or monthly at the latest to make sure any error are picked up in good time. If you need any help with this or are struggling with your bookkeeping please get in touch.