At 1 Accounts Online, we pride ourselves on our diverse clientele, each bringing a wealth of unique knowledge to our accounting practice. Last month, we were privileged to host one of our esteemed clients, The Audiology Expert, for an insightful talk at our networking event. This event became a platform for us to witness first-hand the impressive expertise and passion of our clients, showing us the importance of audiology in our daily lives. We were proud to be the audiology experts accountants!
An Ear for Knowledge: An Audiology Presentation
The event was truly a masterclass in audiology. We were provided with an in-depth understanding of this fascinating field, bringing to light how this science intersects with various aspects of our lives. For the uninitiated, audiology is the branch of science that studies hearing, balance, and related disorders. Our client offered us a unique perspective into the intricate workings of the ear and how audiology can contribute to overall health and wellness.
From discussing the latest advancements in hearing aids to sharing riveting case studies, our client's presentation was a revelation. The talk was not only educational but also engrossing, offering our team a chance to explore the world of audiology beyond the balance sheets and profit & loss accounts.
Bringing Businesses Together: Networking and Learning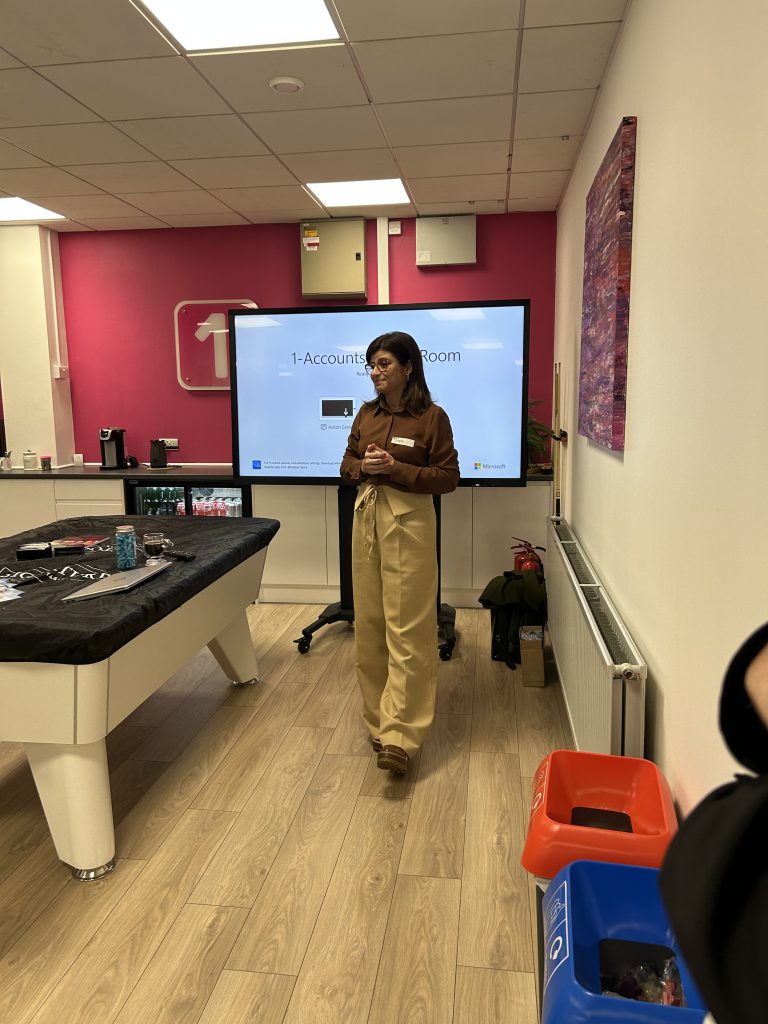 As accountants, we believe in constant learning and growing, understanding the businesses of our clients, and sharing knowledge across various fields. This event was a brilliant example of that belief in action. By having clients like our audiology expert share their knowledge and experience, we foster a more interconnected, educated community.
This event showcased our dedication to our clients and our commitment to understanding their businesses. As digital accountants, we go beyond the traditional realm of number crunching. We value the relationships we build with our clients, ensuring we understand their business and their industry to provide the most effective and tailored financial advice.
1 Accounts Online: Your Accountant of Choice
Our client's talk emphasised the critical importance of effective, specialised financial management for businesses, including audiology practices. At 1 Accounts Online, we understand that each business is unique, requiring tailored, industry-specific accounting solutions.
For audiology practices, we recognise the need for adept management of medical equipment costs, patient billing complexities, insurance claims, and the financial aspects of running a modern clinic. We are equipped to assist with all these needs, providing comprehensive financial guidance and digital solutions that streamline your accounting processes.
For businesses searching for reliable and tailored accounting services, 1 Accounts Online is your go-to partner. If you're an audiologist looking for accounting services, or any business in need of expert financial advice, we are eager to learn about your industry, your specific business needs, and how we can help you to navigate your financial landscape.
Share Your Expertise
In closing, we would like to extend an invitation to any of our clients or fellow businesses who would be interested in sharing their expertise at our future networking events. We believe that learning never stops, and we welcome the opportunity to gain insights from various industries.
Should you be interested in doing a talk for us, please get in touch with Jade at jade@1accounts.co.uk. We eagerly look forward to our continued journey of learning, growing, and serving you better.
Thank you again to our wonderful audiology expert, whose enlightening talk added to our shared wealth of knowledge and brought our community closer together.