So you want to sign up to working with us and have had a successful meeting! Or maybe you're already a customer of ours who wants to change or add to your existing service? Unfortunately we need more than a verbal agreement in today's world so we will send you a proposal to sign so that we can complete the work as agreed.
At 1 Accounts we like to be as paperless as possible so we make use of a software called Ignition which allows us to create and send your proposal to you via email, and allows you to sign it digitally getting rid of the need to print out long contracts and wait for them to be delivered by post. This way you can sign up to our services while enjoying your beach holiday at the same time!
What is a proposal
When we agree to complete a service for you, whether you are signing up with us for the first time, or changing your existing services, we will send you a proposal for you to sign in order for us to complete the work.
Your proposal will contain the agreed services, our terms and conditions, and the agreed fee. It's basically our contract and invoice for the services we have agreed to complete for you, and we need it to be signed and returned to us before we are able to start the work for you.
When we send proposals
 As we said above, we will send you a proposal after we make an agreement with you to complete some work. This could be when you sign up with us for the first time, if you want to add something to your existing service such as bookkeeping, or if you want us to change your address with HMRC & Companies House. Any service that you ask us to do, even one-off jobs, will require a signed proposal even when we are not charging you to complete the work.
How to sign with Ignition
When we send a proposal we use an online software called Ignition. This functions similarly to DocuSign in that it will send your proposal to you via email and makes use of digital signatures, so you are able to sign your proposal wherever you are in the world.
The email will come from a 1 Accounts email address and will contain a link to your proposal. When you click the link, you will see a message from us. On the next page will be a breakdown of the services we agreed with you. Please double check that you are happy with everything that is included before you sign as we can easily make an adjustment and re-send it to you. The following page is a schedule of your payments which breaks down how much you are going to pay us and when. Again, make sure you check this carefully and when you are happy proceed to the signing page.
At the top of the signing page is a link to our terms and conditions that you are agreeing to by signing the proposal. Once again, please read these to make sure you are happy with what you are agreeing to. Once you are happy, please tick the box that says "I accept the above terms" then type your name in the box. This acts as your digital signature. The last thing to do is to click the button in the bottom left corner that says "accept"!
What happens after you sign your proposal
After you sign your proposal, we will receive an email to say you have signed it and we can begin working with you. You will also receive a confirmation email with a link to download your engagement letter for your records.
If this is the first time you have signed a proposal with us, you will receive another email from GoCardless to set up your direct debit. Please fill this out so that we can receive payment from you. If you have completed this step before then the software will trigger the money to be taken according to the schedule agreed upon in the proposal.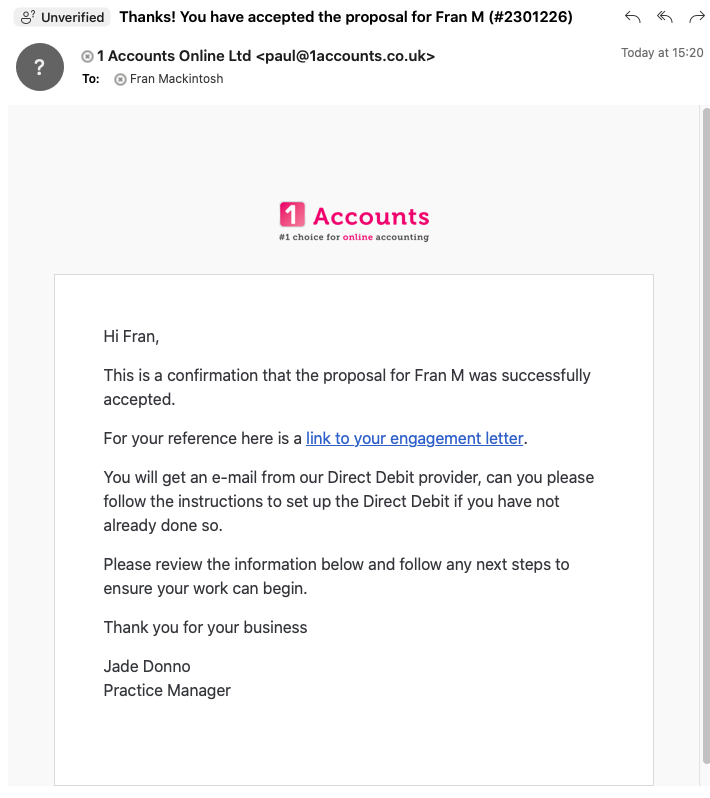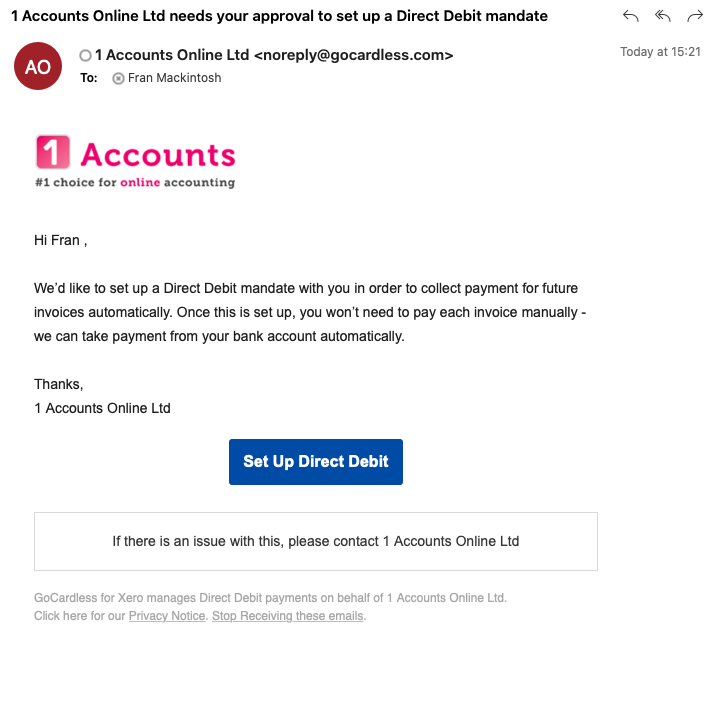 We love using Ignition to complete this as we believe it makes the process very straightforward for both us and our clients. Please watch the below video for a walkthrough of the signing process.