Anti-money Laundering – sounds scary, doesn't it?
Our governing body (AAT) requires us to follow strict guidelines to help us spot signs of money laundering. Although we trust our clients, we must follow all of the steps to comply with the regulations.
What is anti-money laundering?
Our team are all trained to spot the signs of money laundering. Each client will have an identification check and risk assessment completed at the point of onboarding and then every year thereafter. We have to be sure each client is correctly identified and that their income hasn't changed dramatically without justification.
As we have to complete the reports each year we will require:
Up to date data on each client
Valid identification from each client
Due to the nature of accountancy, the police rely on us to report any suspicious activity. The rules are becoming much more strict and so as a regulated firm, we have to comply with the rules.
What do our clients need to do?
For our clients, all we need to know is that your data on our systems is correct and up to date. Therefore each year, every individual client will receive an auto email on the 6th of April. This will request the following:
Confirmation of your email address
Details of any name changes in the past year
Details of any changes in marital status
Details of any children born in the past year
Confirmation of your mobile number
Details of any address changes in the past year
Details of any plans to move home in the next year
Details of if of any changes to bank details
Details of any changes to personal circumstances
We will also request new copies of your ID if they are out of date, but these will only be requested if the ID we currently hold is no longer valid.
How we work 
At 1 Accounts we use a system called Karbon to request information we require from clients. At the end of the tax year on the 6th of April, we send out an automatic email requesting all the information we require to stay compliment with our anti-money laundering regulations. We then send an automatic reminder email once a month for five months to those who haven't uploaded the information. If you still haven't sent information after this, you will get chase emails from one of the team.
If you haven't used our Karbon system before, it is nice and straight forward. All you have to do is click 'manage checklist' on the email.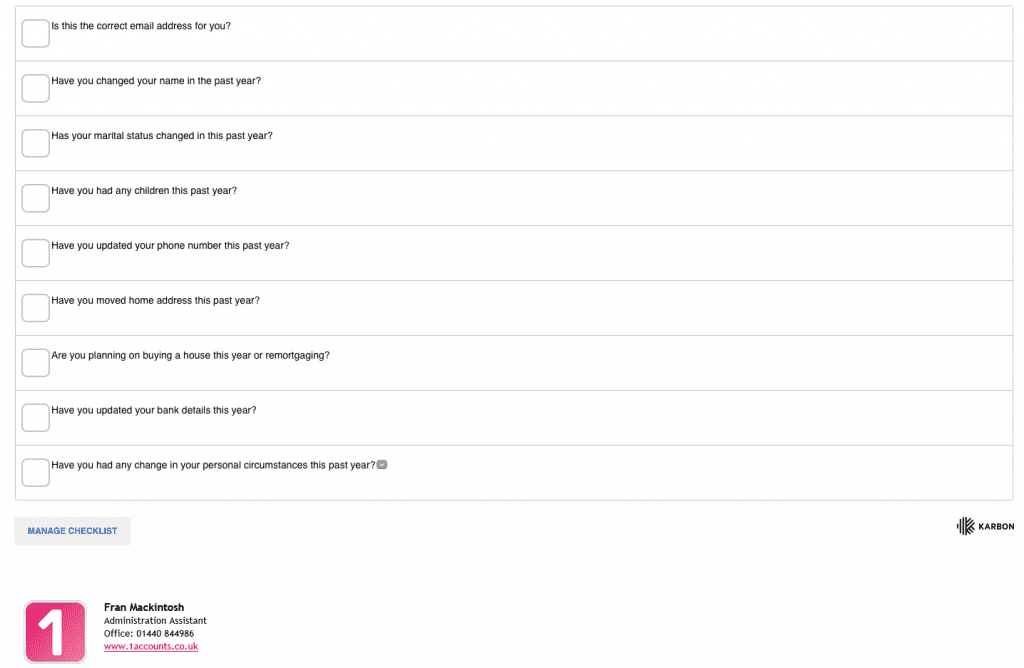 This will then direct you to create a pin number (make sure it is memorable). If you forget your pin, just click on the 'Forgotten your PIN?" hyperlink and follow the steps.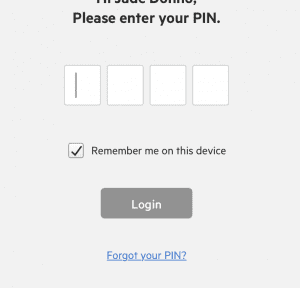 Once you are in, you will be able to see a checklist where you can comment and upload the information we have requested, or ask any questions. These comments come through to the team like an email.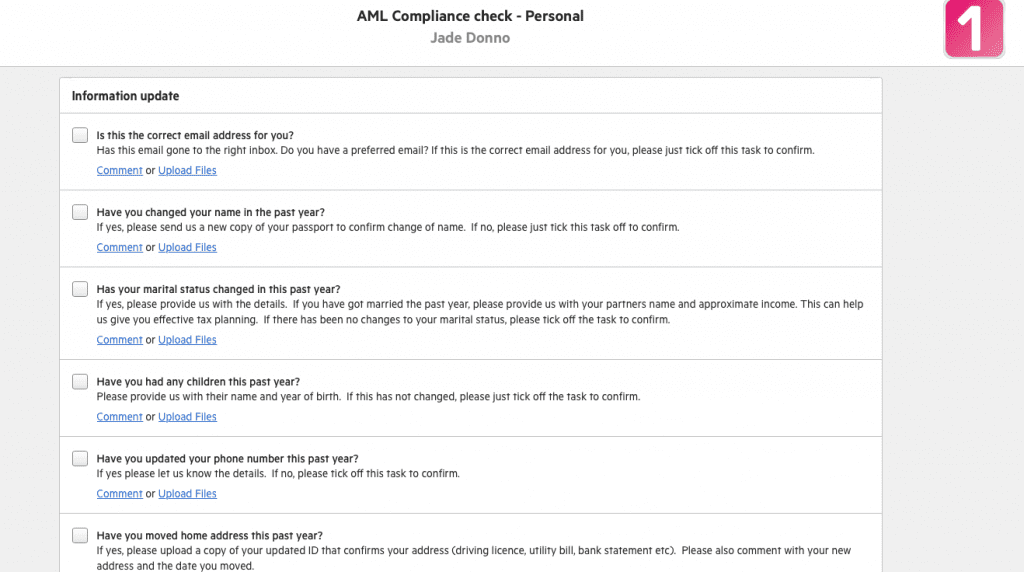 Once you have completed a task we ask you to tick it off. The open tasks are what triggers the automatic reminders and so ticking them off will stop them.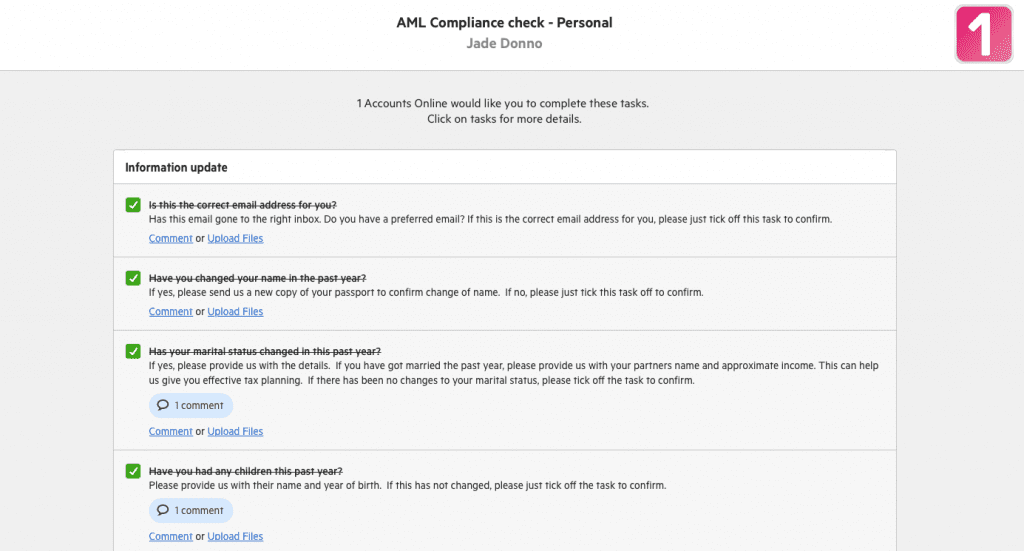 If none of the information requests apply to you, we still need to write N/A in the comments so we know it doesn't apply.

Once you have completed your checklist and ticked off the tasks, please just log out or close the window. Your progress will be saved and we will be notified.
If you ever need any help completing these tasks, please email jade@1accounts.co.uk