One of the things we pride ourselves at 1 Accounts is our ability to be cloud-based and as paperless as possible. This is because we care about the environment and also because we believe these methods give greater flexibility to our clients. In accounting there will always be documents for which we need your signature, and this is where DocuSign comes in. Instead of making the traditional trip to your accountant's office to sign off your tax return or your accounts, you can do it from anywhere with an internet connection!
What is DocuSign?
DocuSign is a software that allows you to send and sign documents with an E-Signature quickly and easily. As the documents are sent directly to your email address, you can access them wherever you are in the world on whatever device you have to hand. The signatures are as legally binding as ink is, so you can sign contracts and documents knowing that they will be fully official.
Why do we use DocuSign?
As well as reducing the impact on the environmental by not printing something out that we don't absolutely have to, using DocuSign's E-signature method frees up lots of time as you don't have to go back and forth to our office or the post office whenever we ask you to sign a document!
It also reduce our turnaround time significantly as there can be very little waiting around. Everything can be signed as soon as it is ready just with the click of a button.
DocuSign is a secure platform so your information will be safe at all times, and will never get lost in the post!
How do we use DocuSign?
When we send you a document to sign through DocuSign, you will receive an email saying that your documents are ready to sign. We typically use this for tax returns, accounts, board minutes or other documents for which we need your signature.
Clicking on the "Review Documents" link in the email will bring you into your document in DocuSign where the places for you to sign will be helpfully marked.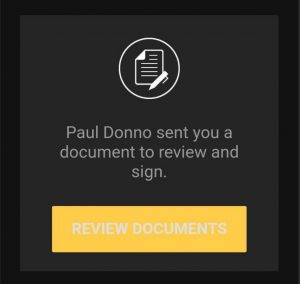 Once you have signed your documents, the completed documents will be emailed to you.
Make sure that you download these and keep save them with your records as it will save time if you need them in the future.
You can either click on the link in the email to download your completed documents or save them from the attachment on the email.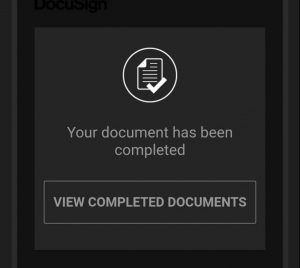 We find DocuSign a big help and a huge time saver for us, and we believe it saves time for our clients as well as making their access to their important documents quick and straightforward.